NEW STAND-ALONE NOVEL
by USA Today Bestselling Author, Chelle Bliss
Released on January 26th – LIVE

EVERYTHING CHANGED IN AN INSTANT.
I thought I knew what was important, but one phone call sent my life into a tailspin.
Alone and afraid, I cling to the one man I shouldn't.
I was warned about him and told to stay away. "He's dangerous," they said.
But the man who could hurt me the most, gave me the greatest comfort.
"He's not who they think," I told myself.
But just like an illusion, things are never what they seem.

It took me a few days to wrap my head around this review. I was a bit of a mess thanks to Callie, Bruno, and Chelle.
Chelle Bliss has stepped outside of her comfort zone to give us a devastatingly emotional story. I cried out of anger, depression, and joy, barely able to contain myself as Chelle put me through the ringer.
Callie is a heroine I can get behind. She reminded me of myself in ways (not that I've dealt with this, but you'll see what I mean). I not only love her, but I respect her. I respect her desire to be independent (she fought for her freedom like a BOSS), her loving nature, and even her sadness. What? Her sadness? YES! This part was written BRILLIANTLY! I felt EVERYTHING. I ached for this woman on so many levels. Chelle brought something so horrific to life, in a way that was respectful, loving, emotional, and raw.
My favorite line:
I miss normal.
Bruno is a wonderful character, as well. He is the absolute perfect blend of badass-alpha-male and sensitive lover. Bruno did what he needed to do to keep Callie safe and cared for. The way he took on his role as her protector and care-giver was inspiring and uplifting; something that was absolutely necessary with all of the other shit going on. His actions are honest and consistent, proving the type of man he is. The Butcher isn't too far off because this man would do anything – kill, maim, burn down the house – to protect those he loves from danger and pain.
I look forward to seeing what Chelle does in the future more than ever before. She has surpassed engaging and entertaining and has reached soul-etching.
Enshrine will definitely be on my favorites list, and I don't just mean 2016. My cup runneth over. And over. And over.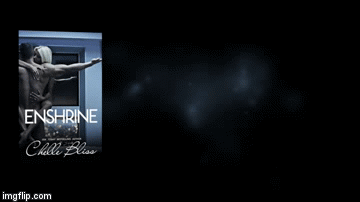 Available at the following retailers
Amazon→ http://amzn.to/1WUCz5U
iBooks→ http://bit.ly/Enshrine
Nook→ http://bit.ly/1GQNiMO
Kobo→ http://bit.ly/1GzKIuE
Google Play→ http://bit.ly/1mY6E9v
ENSHRINE GIVEAWAY – OPEN INTERNATIONALLY
ABOUT THE AUTHOR
USA Today Bestselling author, Chelle Bliss, currently lives in a small town near the Gulf of Mexico in Florida. She's a full-time writer, time-waster extraordinaire, social media addict, and coffee fiend. She's written over ten books and has two series available. She loves spending her free time with her boyfriend, 2 cats, and her hamster.
Before becoming a writer, Chelle taught high school history for over ten years. She holds a master's degree in Instructional Technology and a bachelor's in history. Although history is her first love, writing has become her dream job and she can't imagine doing anything else.
FACEBOOK | NEWSLETTER | TWITTER | INSTAGRAM | WEBSITE
ALSO BY CHELLE BLISS
AMAZON | IBOOKS | NOOK | KOBO | GOOGLE | WEBSITE