Wicked Need (The Wicked Horse Series Book #3)
Sawyer Bennett
Release Date: April 19, 2016
Synopsis:
Rand Bishop's dreams of Olympic gold were shattered years ago but he's left that all behind, settling into a new career and lifestyle that would make any man jealous. While he may not be competitively racing down the ski slopes anymore, he's just as happy getting his rocks off as a Fantasy Maker for The Silo.
He's good at what he does.
Damn good.
But while life couldn't be better for Rand, it seems to be falling apart for Catherine Lyons Vaughn, the dark haired, brown-eyed beauty that has captivated an entire sex club.
Having spent years degrading herself on her husband's whim and now left destitute after his death, Catherine has hit rock bottom. With nothing but her body to peddle, Catherine is merely trying to figure out how to survive in a harsh, cruel world. Lucky for her, Rand has taken her under his tattooed wing, and he's determined to give her a safe life where she can be the woman she was always meant to be.
Now all Catherine has to do is believe she deserves the chance.
Goodreads Link: https://www.goodreads.com/book/show/28383820-wicked-need
All right, let's gt the negative shit out of the way. There are some aspects to this story that I find a touch difficult to swallow (get your mind outta the gutter people). The way Catherine ends up destitute, well, just take it for what it is and move the fuck on. It's fiction peeps. Not saying it wouldn't happen, I just took her for smarter than that.
On to the fun stuff… I think this is my favorite of the series so far. More than likely that's thanks to Chapters 15 & 16. I literally had to take a break from reading Wicked Need for two days I was so freaking hot & bothered. Don't worry, that's not all of the sexy times, it's just my favorite. I would re-read just those chapters. I'm a perv, I'm cool with that.
So we met Cat in the previous books and so we know she's done a lot of, um, stuff. But to be honest, I never really gave her a ton of thought. she was just a beautiful player is a sexy game of "who can get the most ogasms?" I never thought she was a slutty bimbo that married for money (though I did figure she married for money, I mean the guy was like a billion), in fact I didn't really take the time to judge her. So coming into this all I thought was: "Cool, a chick for sexy Rand that's into kink." That's it. But then we get to know her…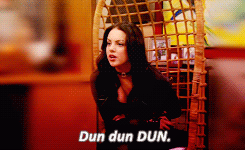 This poor chick! Literally everyone is shitty to her. Well, everyone outside the Silo. Based on their reactions to stuff, they are freaky-kink-loving-totally-respectable-and-lovable peoples.
I really enjoyed getting to know Rand outside of his fantasy-maker role. I love all of Rand's roles *wink wink* He's a super great guy and I loved that this SB hero wasn't anti-commitment or afraid to fall in love. That was so refreshing and honestly, I needed it.
Cat and Rand are so great together. While Cat's insecurities can be a bit much at times, I can't say I would be faring any better than her had gone through that shit myself – so I cut her some slack. Rand, though? Rand invented the idea of cutting slack for this chick. He lays it out there, he supports her, he thrives on giving her his all. There are some insinuations that Rand is that guy that wants to save people, but honestly, I never felt like Cat was a project for him. His feelings came across as genuine time and time again.
Cat is so over the fucking moon for Rand, but is definitely afraid. Not of him, per se, just afraid of being left in a pile of crushed glass if they were not to make it work. It's hard for her to accept that Rand doesn't see that as a viable option – them not working. It's not even a long thought. But Cat's personal growth is fantastic and witnessing it is lovely.
I also enjoyed Sawyer's "who done it" in this book, it was creep-tastic and exciting, even if a little out there. definitely a good sub-plot to keep things interesting.
Imma let you know now: There are characters you will want to cut their damn nuts off. And feed them to them. and then kick them in the stomach until they puke. Just a friendly warning. You'll want to look at them and say:
About the Author
Since the release of her debut contemporary romance novel, Off Sides, in January 2013, Sawyer Bennett has released more than 30 books and has been featured on both the USA Today and New York Times bestseller lists on multiple occasions.
A reformed trial lawyer from North Carolina, Sawyer uses real life experience to create relatable, sexy stories that appeal to a wide array of readers. From new adult to erotic contemporary romance, Sawyer writes something for just about everyone.
Sawyer likes her Bloody Mary's strong, her martinis dirty, and her heroes a combination of the two. When not bringing fictional romance to life, Sawyer is a chauffeur, stylist, chef, maid, and personal assistant to a very active toddler, as well as full-time servant to two adorably naughty dogs. She believes in the good of others, and that a bad day can be cured with a great work-out, cake, or a combination of the two.
Connect with Sawyer:
Facebook: https://www.facebook.com/bennettbooks
Twitter: https://twitter.com/BennettBooks
Instagram: https://instagram.com/sawyerbennett123/
Goodreads: https://www.goodreads.com/Sawyer_Bennett
Sign up for Sawyer's newsletter: